SK Ammo is manufactured to strict tolerances. Each individual cartridge is inspected at the factory and fifty cartridges from each batch are tested to make sure that the highest quality rimfire ammunition is reaching the consumer. This ammunition was designed as a general purpose round. Available in 50 or 500 count boxes.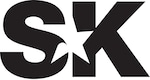 Product Information
| | |
| --- | --- |
| Cartridge | |
| Grain Weight | |
| Quantity | |
| Configuration | |
| Muzzle Velocity | |
| Muzzle Energy | |
| Bullet Style | |
| Lead Free | |
| Test Barrel Length | |
| Velocity Rating | |
Delivery Information
0.400 Pounds – 4.040 Pounds
Yes

 Cannot ship via air
 Cannot ship via USPS
 Cannot ship to PO Box
When you are looking to make an impression and leave a mark, you need SK Standard ammunition. Highly specialized ammo, SK Standard used the latest state of the art technology to produce the worlds best rimfire ammo including calibers such as SK Standard 22LR Ammo.
SK is not just some factory that makes ammo. They're part of an international group that has a lengthy history and a tremendous amount of knowledge about everything concerning ammunition. From the very act of shooting, to all the science that goes into firing a successful shot. So you can rest assured that you'll benefit from all of the decades of research and development inside the talented group. Using their products and services is your best shot in developing towards championship stardom. They want to help you to be the best.
If you are a recreational or competition shooter, a hunter or a law enforcement officer, Armory Anchor  a one stop shop for the entire line of SK ammunition with free shipping on all bulk SK ammo! Target Sports USA proudly carries the following lines of SK ammo: Biathlon Sport, Flatnose Basic, Flatnose Match, Long Range Match, Magazine, Pistol Match, Pistol Match Special, Rifle Match, & Standard Plus